Location filming marquees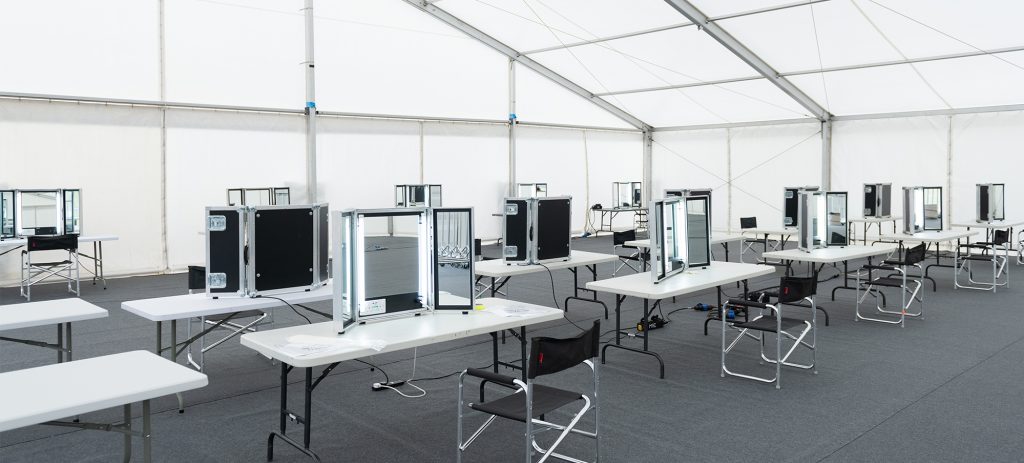 When film and TV productions move out of the studio onto location, then a whole host of support infrastructure needs to move out as well. Catering, dressing and costume areas, equipment storage, production offices, workshops all need shelter to operate properly which is why location filming and marquees go hand in hand.
The UK Film Industry
The UK Film and TV industry is in very healthy shape. The recent growth has been driven by significant investment from such global giants as Amazon, Apple, Netflix and Disney. While the shift towards streaming was already well under way, the pandemic lockdowns created a surge in demand which the new platforms have invested to meet.
As a result, many existing film studios are booked well into the future, and new studios are springing up all over the UK including major projects in London, Birmingham, Manchester, Bristol, Glasgow, and other UK cities. In addition, there are also many on-location projects under way or planned.
Location Support and Marquees
Film location support is a specialist field with many services required, and marquee structures are amongst these, providing:
dressing areas
catering cover
production offices
workshops
storage areas
The type of marquees or temporary structures that are used on location will depend on various factors:
time of year
location & access
length of shoot
security
budget
The coronavirus pandemic has added to the complexity for location managers, with social-distancing, bubbles, and hygiene security all now part of the mix.
Fews Film Production Support provide marquees and structures which offer solutions for these factors. For example, if filming is taking place through winter months, then heating and insulation becomes very important and Fews can install thermostat-controlled heating systems, insulated walls, and roofs.
If simpler marquees are required for shorter shoots, then these are available at lower cost.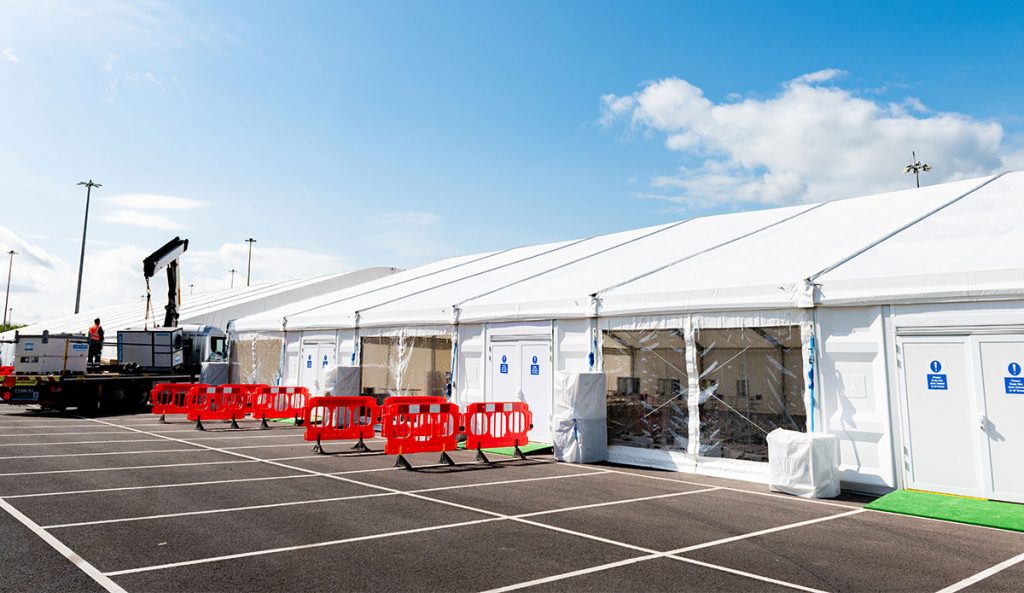 Benefits of Marquees for Location Filming
Fast Installation
The real benefits of marquee structures lie in their flexibility and convenience. Speed of installation is key, especially when locations change at the last minute.
Fews have large inventory, dedicated rigging teams and their own transport to ensure that tight deadlines can be met.
Large Spaces
Sometimes very large spaces are required, either for workshops or even socially distanced canteens under new guidelines. Fews offer clear span marquee structures of up to 30 metres wide with almost unlimited length and eave heights between 2.4 and 8 metres to cope with any requirement. If super-size structures are required, then widths of over 40 metres can be achieved.
Access Doors & Security
Access doors can range from lockable personnel doors with emergency exit bars, cost efficient sliding doors, to fully automated roller shutters to accommodate delivery vehicles. The fitting of hard walls, secure steel locking personnel doors and alarm systems can ensure the security of whatever is kept inside the marquee.
Flooring options
Flooring options include simple board floors and level cassette floor systems, plus a range of coverings including carpet and commercial grade vinyl.
Heating Ventilation Air Conditioning (HVAC)
Operating under a thermostat system which can be controlled from inside the marquee to create an ambient temperature, whatever the weather conditions outside, we'll make sure your marquee is heated or cooled discreetly and to just the right temperature.
Using EC40, EC70 or Jumbo 250 units, all of our marquee heaters sit outside and blow warm air into the marquee through free standing diffuser units located around the marquee walls.
Depending on the use and size of the structure, the time of year (the winter months requiring more units and larger versions), three different diffuser unit sizes are available to choose from. Alternatively, specialist overhead ducts can be installed to distribute heat or cool air, depending on the system required.
Summary
The establishment of the main content platforms across the UK means that location filming will be a significant feature here for some time to come. Ensuring that the demand for location marquees can be met with the right high-quality products for each application is a task that Few Film Production Support relish, and we will continue to invest to make sure that we are a reliable part of the production network.